Today we are looking at one of the major things related to WordPress; yes resetting it. Resetting WordPress is not a hard task but it is also not easy as you imagine. If you are resetting WordPress, you should be really careful about it. You should know how a resetting is going to change your site entirely.
When to Reset a WordPress Site?
There are a few reasons you may need to Reset WordPress. You may need to reset your WordPress site partially or fully. If you are a WordPress developer, you may need to reset your site fully to test installation. You may also need to reset your site if you are rebuilding it or restoring the site from a backup.
Easiest Way to Reset a WordPress Site
The easiest way to reset a WordPress site is by using a plugin like WP Reset. If you search on Google, you may find a lot of plugins to reset WordPress but we have some solid reasons to opt WP Reset. Here we go with some of the notable features of the Plugin.
Free to Use
One-Click Reset
Post-Reset Setup
Selective Reset tools to choose to reset only transients, plugins, themes, wp-uploads folder, etc.
Option to create a collection of favourite plugins & themes
You have the option to change WordPress versions like Downgrading
Install the Plugin
Now it's time to install the Plugin to reset. Here we go.
Sign in to your WordPress site and open your dashboard
Go to Plugins and click Add New
Install and activate the plugin named "WP Reset – Most Advanced WordPress Reset Tool".
Reset the Plugin
Once the Plugin activated, open plugin's settings page located under your WordPress Tools menu. Scroll down to the bottom of the page and type reset in the confirmation field to confirm the reset and then click the "Reset WordPress" button.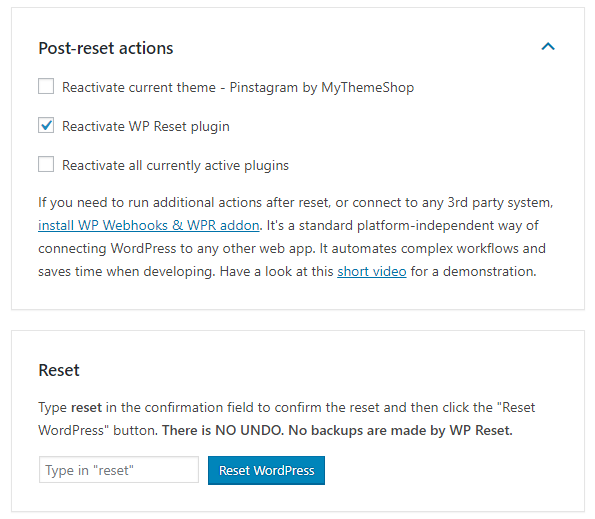 That's it. You have successfully completed the reset. Note that all posts, pages, custom post types, comments, media entries, users will be deleted permanently while doing this. If you want to manage your 301 redirects, check WP 301 Redirects plugin.