There is no shortage of good products in the smartphone industry, and HONOR's phones are known for their high value for money. The HONOR 8S I'm about to talk about is mainly targeted at the entry-level cell phone market.
The smartphone comes with a 5.71-inch water drop screen with 1520*720P resolution. At the core, this entry-level phone is powered by a MediaTek A22 processor with 3GB of RAM and 64GB of onboard storage.
Adopts the mainstream "water drop screen" design. The design concept of extremely narrow bezels is applied. This narrow bezel gives the phone a higher screen-to-body ratio. The design of the exterior makes the phone look very gorgeous. The back of the case is not a simple cheap plastic package, but a unique technological design.
This smartphone is based on a water drop screen with a wider chin than the other three bezels. It is also printed with the HONOR logo. On the back of the device, it has an integrated design with a plastic back. As it is positioned in the entry-level phone market, the back of the body is integrated and the body is made of plastic.
It has a single rear-facing camera and no rear-facing fingerprint button. In terms of color scheme, HONOR's entry-level phone is available in black, blue, and gold.
On top of the core configuration, the HONOR 8s is equipped with a MediaTek A22 processor. According to public information on the Internet, the MediaTek A22 processor is based on a quad-core A53 architecture. This is somewhat similar to the P22 or P23 processors and can be seen as their successor. The IMG PowerVR GE8320 is used for its graphics capabilities, and supports LPDDR4X processors. Supports dual rear cameras up to 21 megapixels. Clocked at 2.0GHz.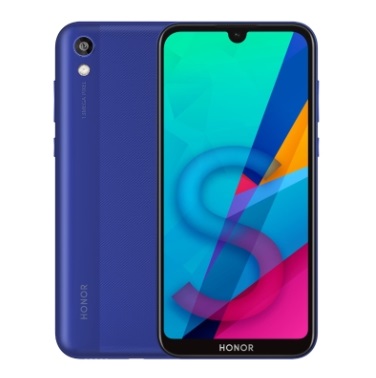 As HONOR's entry-level phone, this smartphone offers 3GB of RAM and 64GB of storage with Micro SD card support based on the processor. In terms of software system, HONOR's phone runs Android 9.0.
Users who care about taking photos must know that this smartphone has a single 13-megapixel rear camera. It supports 1080P video recording. The front 5-megapixel selfie camera has no problem meeting daily camera needs.
HONOR has always been a trendy brand for young people. Products, whether cell phones or laptops, focus on trendy design and extreme performance. Even in the field of entry-level smartphones, it has never been half-hearted. The introduction of the 8S has been well received by many consumers. If you want to learn more about HONOR cell phones, you can visit the HONOR store to learn more about them and decide whether or not to buy them.